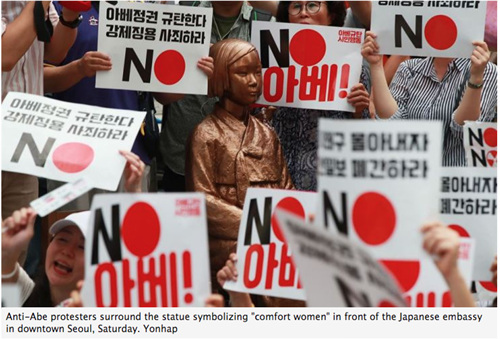 파시즘과 제국주의에 대한 시대착오적 妄想(망상)을 갖고 있는 일본 우익 집단의 대한민국에 대한 경제공격에 담담한 용기로 대처합시다.
일본 아베가 잘못되었고 문재인 대통령이 옳습니다.
한국내 친일, 수꼴세력도 이제 진정한 보수로 태어나길 바랍니다.
우리 세대에서 반드시 해결해야 할 과제, 宿命(숙명)입니다.
국제 시민들, 지식인들과 함께 연대합니다.
"살고자 하면 죽을 것이고, 죽고자 하면 살것이다".
--시몬천 드림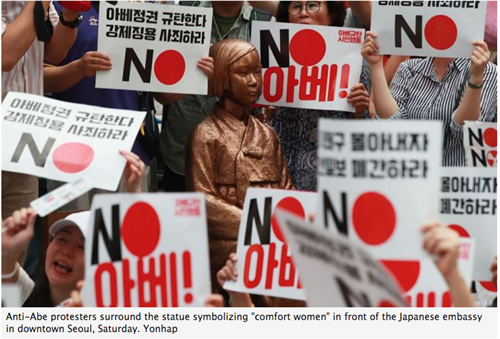 "Prime Minister Abe, please stop wrecking the friendship between the Japanese people and South Korean people, and embroiling the people of the two countries in a fight." 78 Japanese intellectuals, "Is South Korea Our Enemy?"
Dear esteemed friend--an update.
Abe's unprovoked trade war on South Korea to retaliate the victims of wartime slave labor who seek justice is wrong, immoral and unjust.
Overcoming wars and the Holocaust, European intellectuals and progressive activists started dreaming about and working on a European community in the darkest times, immediately after WWII.
Let us imagine and work toward a cosmopolitan, progressive and moral Northeast Asian community!
JAPAN'S WAR ON KOREAN WARTIME SLAVES:
Chronology of Abe's bullying wartime slave victims and South Korea
November, 2018
South Korea's Supreme Court ruled that its citizens can sue Japanese companies for using wartime slave labor during World War II.
As many as 7.8 million Koreans were conscripted as forced labor or soldiers during Japan's imperial expansion before and during World War II, according to South Korean estimates. They toiled in mines and munitions factories across Asia and fought alongside Japanese troops. Women were sent to military-run brothels. After the war, South Korea sought compensation on behalf of these workers. In the pact establishing diplomatic relations between the two nations in 1965, Japan provided $300 million in aid and $200 million in loans. The trade spat came as relations between the two neighbours have soured over South Korea's demands for compensation for their harsh labour for Japanese companies before and during World War II.
July 1, 2019
Abe instigates trade war against South Korea to defend Japan's wartime slavery.
•Japan imposed export restrictions after South Korea's Supreme Court's decision. Any exports of the chemicals fluorinated polyimide, photoresist and hydrogen fluoride — used in smartphone displays and for transferring circuit patterns and etching gas in chips — will require licenses for South Korea that could mean a delay of up to 90 days for major Korean chipmakers including Samsung and SK Hynix. Semiconductor chips make up a quarter of Korea's exports. Japan produces 70% to 90% of the three key materials.
•Abe's trade war threatens not only Korean companies but also companies from other markets that take part in the global technology ecosystem. Further, Japanese companies are also already suffering from weaker demand.
•Japan's tourism industry feeling effects of S. Korea's travel Boycott.
July 25, 2019
A total of 78 people "Is South Korea our Enemy?" Japanese intellectuals, including scholars, lawyers, and civic activists: "Prime Minister Abe should stop considering South Korea as an enemy and resume diplomatic talks." Seventy-five Japanese intellectuals, including scholars, lawyers, and civic activists as well as Professor Wada opened a website, peace3appeal.jimdo.com, and posted a statement titled, "Is South Korea our enemy?" They are asking those who share the same opinion to sign the statement until August 15.
"We demand that the Japanese government immediately retract the export restrictions against South Korea, and commence a calm dialogue and debate with the South Korean government.
It is at this time today, after the cultural and citizen-level exchanges between Japan and South Korea were opened as part of the "Japan-South Korea Joint Declaration of 1998," that exchanges between South Korea and Japan have reached an enormous scale. The popularity of BTS (Bangtan Boys) is overwhelming. In a TV interview, they openly commented that "(Japanese) high school girls live through South Korea." Three million people travel from Japan to South Korea, and seven million people visit Japan from Korea. No matter how much far rightists on the Internet and producers of hate speech yell, Japan and South Korea are important neighbors, and South Korea and Japan are inseparable.
Prime Minister Abe, please stop wrecking the friendship between the Japanese people and South Korean people, and embroiling the people of the two countries in a fight. If we have different opinions, then we should simply keep holding hands and engaging in dialogue."
July 29, 2019
Abe rejects the proposal by the Trump administration.
The Trump administration proposed a "standstill agreement" with Japan on July 29 aimed at giving them more time and room to negotiate a diplomatic resolution to the trade row.
"Japan has been a barrier to the Korean Peninsula peace process," Blue House official says
"Japan has been a barrier to the Korean Peninsula peace process," Blue House official says
"We ought to give some serious thought to the meaning of the peace and prosperity of the 'normal country' that Japan seeks to become," "On July 29, the US expressed its concerns [to us] about the ongoing dispute and suggested that we and Japan put a temporary freeze on the status quo while holding negotiations in an attempt to reach a diplomatic agreement. My understanding is that the same proposal was communicated to the Japanese on the same day. Based on the American proposal, therefore, we proposed high-level bilateral deliberations on the afternoon of July 30, but Japan rejected our proposal a few hours later," the official said.
http://english.hani.co.kr/arti/english_edition/e_international/904380.html?fbclid=IwAR1AlboEdAZ6qzhf91KCfnt6FS_Gd598Gu3RobSEFLDMrcQUPHYkfbbyzDc
August 2, 2019
Abe launches a unilateral and unprovoked trade war against South Korea.
Japan's Abe launched an unprovoked trade war on South Korea by dropping South Korea as a preferred trading partner, escalating a dispute that threatens the global supply chain for smartphones and electronic devices.
•Abe's cabinet under the influence of rightwing faction voted to drop Korea from a list of 27 countries granted preferential trade status.
•Implications of Abe's trade war for global consumers and businesses:
◦Significant increase of smartphones/PCs/thumb drives/SSDs/virtually any electronic device that uses NAND and/or DRAM chips or has a display panel.
◦South Korea will move to build its own components/equipment/materials for economic security. South Korean companies will suffer in the short-run due to the break of supply chain.
◦Consumers will see price increases in faulty products. Dramatic impact globally: South Korea and Japan have been closely interlinked in the global tech supply chain. Japan's decision will irreversibly alter that relationship. South Korean tech firms account for 50%+ of global memory supply and are one of the biggest suppliers of LCD/OLED screens (only very few players due to consolidation). Japanese companies will suffer if South Korean companies divert now and forever due to the lost of trust and confidence.
◦Tech companies will diversify supply security for future trade war like this.
Japan Imposes Broad New Trade Restrictions on South Korea.
Japan on Friday moved to increase controls on the export of a broad assortment of products to South Korea, dramatically raising the stakes in a political standoff that has plunged relations between the countries to their lowest point in decades. The removal will take effect on Aug. 28, Japanese officials said, leaving both sides room to cool tensions. South Korea's removal from the white list follows a decision by Japan in early July to tighten controls on exports to the country of several chemicals used in the production of advanced semiconductors and digital flat screens — pillars of the South Korean economy. The decision required Japanese companies to apply for a license to export the chemicals to South Korean customers, a process that could take up to 90 days.
https://www.nytimes.com/2019/08/01/business/japan-south-korea-trade.html?smtyp=cur&smid=tw-nytimesworld
Abe's Trade War With South Korea Is Hopeless, Bloomberg Opinion [Editorial]
Japan's leader should never have introduced commercial weapons into a political dispute. Now he needs to compromise...
https://www.bloomberg.com/opinion/articles/2019-07-21/japan-s-hopeless-trade-war-with-south-korea
"Prime Minister Abe, please stop wrecking the friendship between the Japanese people and South Korean people."
1. August 3, Seoul, Korea, and August 4, Tokyo, Anti-Abe protest picks up steam [PHOTOS], https://m.koreatimes.co.kr/pages/article.asp?newsIdx=273355
At the candlelight vigil, NoAbe, in Seoul, the organizers: Do not fight with innocent Japanese who have nothing to do with Abe and who have goodwill. Be kind and courteous to Japanese who are visiting Korea; Support and participate Saturday candlelight vigil, #NoAbe, especially on August 15.
Sales of Japanese cars in South Korea dropped 17% in July compared to 2018 due to South Koreans boycott. Toyota saw its July sales slump 32% from 2018, and Honda's sales drop 34%.
2. Lee Joon-gyu, Professor, Seoul National University
Abe showed himself as a third-rate politician who inflicts pain on his own people. Korean economy overcame the 1970's oil shock and will tackle this challenge as well. https://www.vop.co.kr/A00001425613.html
3. Kim U-joon, Journalist, The Latest Trade War=Japan's ultra- rightwing's 19th mindset.
It is the work of the powerful rightwing political organization: "Japan Conference"
•Formed in 1997
•Anachronistic militaristic, feudal, fascist view
•Rejects Japan's defeat in WWII, rejects responsibility in WWII
•Holds the 19th century mindset
•Prime Minister Abe is one of the founding members of Japan Conference
•40%, 300 Japanese parliament members belong to Japan Conference
•80% of Abe's cabinet members belong to Japan Conference
•Holds fanatical, almost cult-like belief in the restoration of "glorious Japan"
4. Ahn Hee-gon, CEO, April Book Publisher, Korea
Japan that refuses colonial past, sex slavery and wartime slaves is delusional chose economic war again South Korea: an act of megalomania. I am proud to be Korean and Korea that chose democratic path to the modern world, not an imperial and fascist path.
http://m.khan.co.kr/view.html?art_id=201908042040005&fbclid=IwAR3pOxxqKkNyaWaj9L-0xnbZGNJZBDoPFDXrD2VOOFhhRZ5NFLhduPJXeg8
5. Choi Bae Gun, Prof. Economics
•Abe's reckless decision indicates that Japan is NOT a normal society and economy.
•Indicates the rise of desperate militarism to disguise economic stagnation after the lost decade.
•Abenomics=print money, lower prices for export but export has been stagnant.
•Selfish act that totally ignores Korea-Japan relation that affects the United States too.
•Korea will be forced to implement import substitution and difficulties ahead but in the long-run will succeed but Japan will lose important customers forever. Losing Korean customers will be fatal to Japanese manufacturing sector in the long-run.
•Cheer for Korean engineers who are working round O'clock.
•Korean semiconductor sector declares an all-out war enters 2-month all out war. Asked President Moon to permit more than 52 hours, Korean engineers, no vacation, 24-hour and round O'clock
6. Danaka Hiroshi, Japanese Professor
•Japanese media don't and can't say No to Abe.
•Abe administration is similar to the last days of the defeated Japanese empire in 1945.
7. Satoko Norimatsu, Editor, Asia-Pacific Journal, via Korea Peace Network
I just read President Moon's response. He is right in every sense. I was recently interviewed in Korea, and told them that this is not a bilateral problem; this is Abe's unilateral attack on Korea, the last country Japan should be attacking. I have never felt so ashamed…
8. Yonokami Takasi, Japanese expert on trade and semiconductor sector
•It will take a year or two for Korean companies to import substitution from Japan.
•Japan's semiconductor will collapse in 5 years due to losing trust.
•Abe's trade war will affect global semiconductor market and hurt Japanese companies too
•Prime Minister Abe and his cabinet members should kneel down and apologize to Korea. http://m.news1.kr/articles/?3685653#ns1
9. @SimoneChun to Secretary Mike Pompeo
Replying to @SecPompeo @konotarogomame and @konotaromp#NoAbe Mr. Secretary, as long as Abe continues with his unprovoked trade war against ROK over wartime slave issue (crime against humanity) & opposes Korean peace, North Korea will NEVER denuclearize. The unprovoked attack is a practice of gangsters. FDR's speech
(link: https://www.mtholyoke.edu/acad/intrel/WorldWar2/radio.htm)
mtholyoke.edu/acad/intrel/Wo…
Replying to @willripleyCNNImagine that your 95-year old grandfather was a wartime slave and wants justice. The colonizer retaliates an entire nation for that? I will defend and support President Moon! The entire world and humanity should! We will never lose to the barbaric crime against humanity!
10. Many Koreans demand unified inter-Korean cooperation as #1 priority: resume Mt. Kumgang Tourism, open Gaesung Industrial Complex, and strengthen inter-Korean economic cooperation to counter Japan's economic war and militaristic ambition.
VOICES OF JAPAN:
Translation from Japanese to English by
A. Ando and Prof. Joseph Eessertier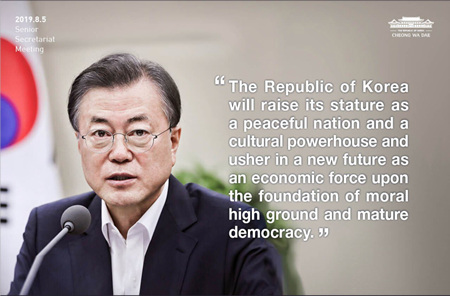 Seventy-five Japanese intellectuals, including scholars, lawyers, and civic activists as well as Professor Wada opened a website, peace3appeal.jimdo.com, and posted a statement titled, "Is South Korea our enemy?" They are asking those who share the same opinion to sign the statement until August 15.
President Moon Jae-in's appeal to the nation and the world community.
"We Will Never Again Lose to Japan"
We will create a peaceful, moral and democratic economy and nation.
"There are deep wounds between Korea and Japan due to our unfortunate history. However, our two countries have long endeavoured to heal the wounds by using stitches, medicine and bandages. Nonetheless, if Japan, the aggressor, reopens the old wounds after so long, an international community aware of the facts will never tolerate it. Japan must squarely face up to this," Moon said.
We will never again lose to Japan.
We have come this far today by overcoming countless hardships.
Just as we have always done in the past, we will in fact turn adversities into opportunities to leap forward. -2019.8.2 Emergency Cabinet Meeting
https://www.youtube.com/watch?v=uVW8dcLpSoU&feature=youtu.be
#NoAbe, #BoycottAbe, #NoWarTimeSlavery
#SaveKorea, #VisitKorea, #BuyMadeInKorea, #SupportKoreaPeoplePower
Willy Brandt's historic gesture for war victims and humanity in 1970: apology and forgiveness
시몬 천
노스웨스턴대 국제정치학 강사
글로벌웹진 NEWSROH 칼럼 '열린 기자'